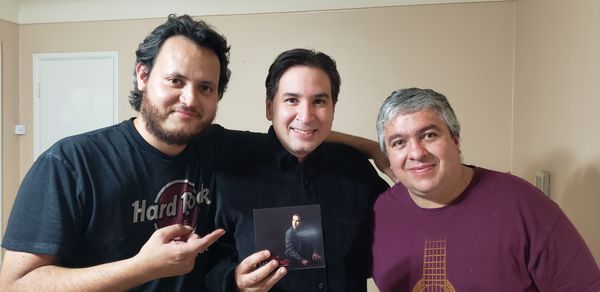 I can still remember how it started, almost two years ago. 
I was preparing for a live performance scheduled some time ago. The show featured Italian and Mexican songs. I felt at the time that it was a powerful concept. 
Unfortunately, in March 2020, the pandemic struck. And then, the live concert got canceled. Still, I had a burning desire to continue spreading music through my project. 
So, like most artists at the time, I had the idea of making a video recording to reach the public, even in their homes. But this time, I had a different concept in mind, more focused on my homeland and Latin American music in general. 
It was then that I discarded the idea of having an accompanying pianist and decided to include two admirable guitarists in my project: my countryman Misael Barraza Díaz, with whom I had previously worked on many occasions, and Edwin Guevara Gutiérrez, Colombian guitarist, professor at the Sergio Arboleda University in Bogotá, whom Barraza had recommended. 
We chose a repertoire representative of the Latin American songbook, with virtuous and fresh musical arrangements. 
The aim was to develop a sweet and dedicated accompaniment that transmitted the beauty and passion of the Latin feeling through the melodic phrasing. The intention was to take the audience, in consequence, on a journey of colorful vibration and emotional delivery. 
After preparing for this virtual experiment, the day finally arrived when we performed. And to everyone's delight, the event was an unquestionable success. 
The comments from the audience were stimulating, several of them urging us to continue on the path of spreading the Latin American repertoire. 
In addition to this, the undeniable chemistry between the virtuous guitarists and my vocal efforts thrilled our musical passions, envisioning a positive opportunity to continue the project. 
Thus, with the support of friends, acquaintances, and cultural groups (Tucson Guitar Society, Tucson Desert Song Festival), my fellow guitarists and I embarked on the journey of making a formal audio recording. The work was, of course, tireless. 
We spent countless hours rehearsing together, experimenting, studying, and developing different ways to produce both harmonic and vocal arrangements. The result, in my opinion, was delightful. 
With 13 songs (12 tracks) fully arranged for recording and production... The project took on a new life! 
During the weeks that followed, we periodically attended George Nardo's studio, in charge of recording and editing the 13 songs that would make up the album. The mixing and mastering was done by Grammy® award-winner Eduardo del Águila.
In this first version, the compilation includes diverse genres and tunes from all over the Latin American continent, among them: 
- Representative works of Argentine tango (Volver, El Día Que Me Quieras), 
- Examples of the beauty of the Creole waltz (Cuando Llora Mi Guitarra), 
- The widespread Mexican repertoire, known throughout Latin America and beyond (Sabor a Mí, Contigo Aprendí). 
That is why now, after stumbles, hard work, and a lot of passion, we can offer you this great collection that is Latíntimo. 
A gift from Misael Barraza Díaz, Edwin Guevara Gutiérrez and I, for everyone who appreciates the magic of Latin music. 
Without further ado, I am confident you'll enjoy it.